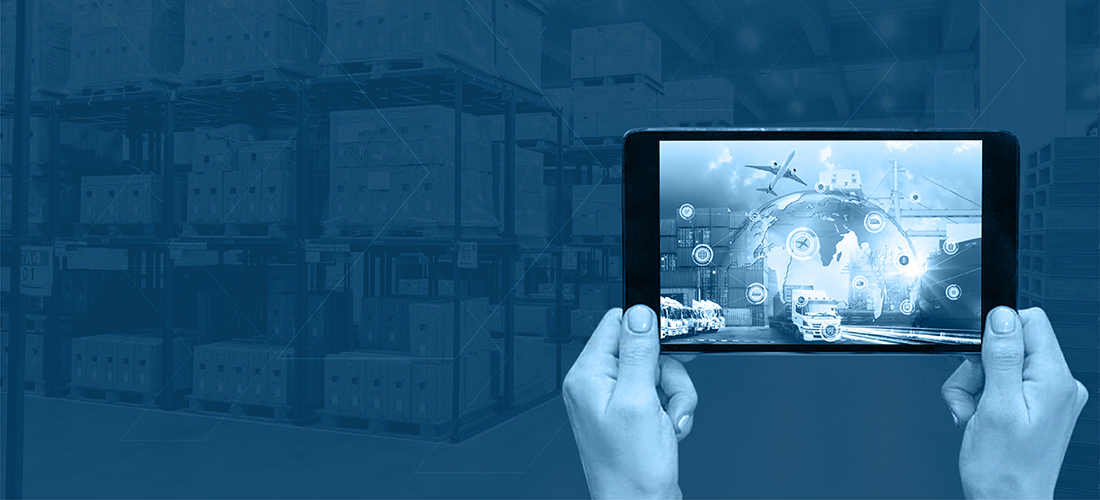 The world is changing, and advanced technologies are dramatically disrupting the supply chain ecosystem. The Internet of things has radicalized how machines interact with people and one another. Sensor-enabled technologies and advanced analytics carry promise in bringing the balance between workload and production. The supply chain is on the cusp of innovation and augmentation that is becoming more applicable in today's supply chain needs.
Most of the organizations have been adopting digitalization to participate in and add value to the network. Seamless system integrations are vital to establishing real-time integrated logistics and predictive networks. The future belongs to the organizations competing— and winning—based on the capabilities they can connect across their supply networks.
With time, supply chain processes must augment and change with a massive injection of new technologies, robotics, artificial intelligence, big data approach, and contemporarily become more sustainable, considering the growing environmental challenges.
Every business is connected horizontally and vertically; today, we need a hyper-connected ecosystem, to enable collaboration and transparency and best possible business practices. To get the best out of our businesses, let's Investigate, Understand and Discover, the potential of an Augmented Supply chain.
The need for data-driven Augmented Supply Chain is to avail the shared success from today's network. The systems in the traditional Supply Chain worked well in isolation, but it fails to bring a collaborative approach into practice.
Lack of connectivity with shippers, carriers, customs, and more
Massive and costly data processes
Ineffective solutions for handling large amounts of information and potentially inconsistent data
Missing tools to exchange the right data to foster cooperation and collaboration across the entire value chain in a secure and trusted way
So, what is needed now is the latest tech to get a competitive edge. Data-driven augmented supply chain that enables a seamless flow of information amongst systems to further transform into a hyper-connected ecosystem. By connecting the data, you can further derive insights that provide you with an actionable dashboard. The augmented supply chain bridges the information gap.
The augment supply chain doesn't only give you a competitive edge in the current market scenario but also future proofs your supply chain by preparing your business for the tech of tomorrow – Voice control, machine learning, 5G tech, immersive reality, blockchain and more.

How could one harness the power of Augmented Supply Chain through seamless connectivity?
Seamlessly integrate with unlimited distributed applications
Smart data exchange platform for creating seamless logistics processes
Multi-channel order-to-cash management for order fulfilment, shipping, invoicing and payments
Enhanced collaboration by User/Persona and Workflow Based Applications
Intelligent Insights at your Fingertip
Real-time Communication and Collaboration
Operational Efficiency through Simulations and Optimizations
While these are the features required for an enhanced and augmented supply chain, today, various solution providers claim to offer the same. But, just as every organization is different from the other, the challenges they face are as well unique. We, at DiLX, cherish the uniqueness of every challenge a business has and tailor the solutions as per the need.
With the 20+ years of experience and our unique and expert Consulting-led approach, SaaS-based frameworks and bolt-on solutions, Digital Engineering Services and World-class 24/7 Support, DiLX empowers your business with digital tools, allowing you to go beyond Efficiency, create better visibility, higher predictability, improved accuracy and accelerate your growth.
Read About one of our Success Stories- Nijhof Wassink.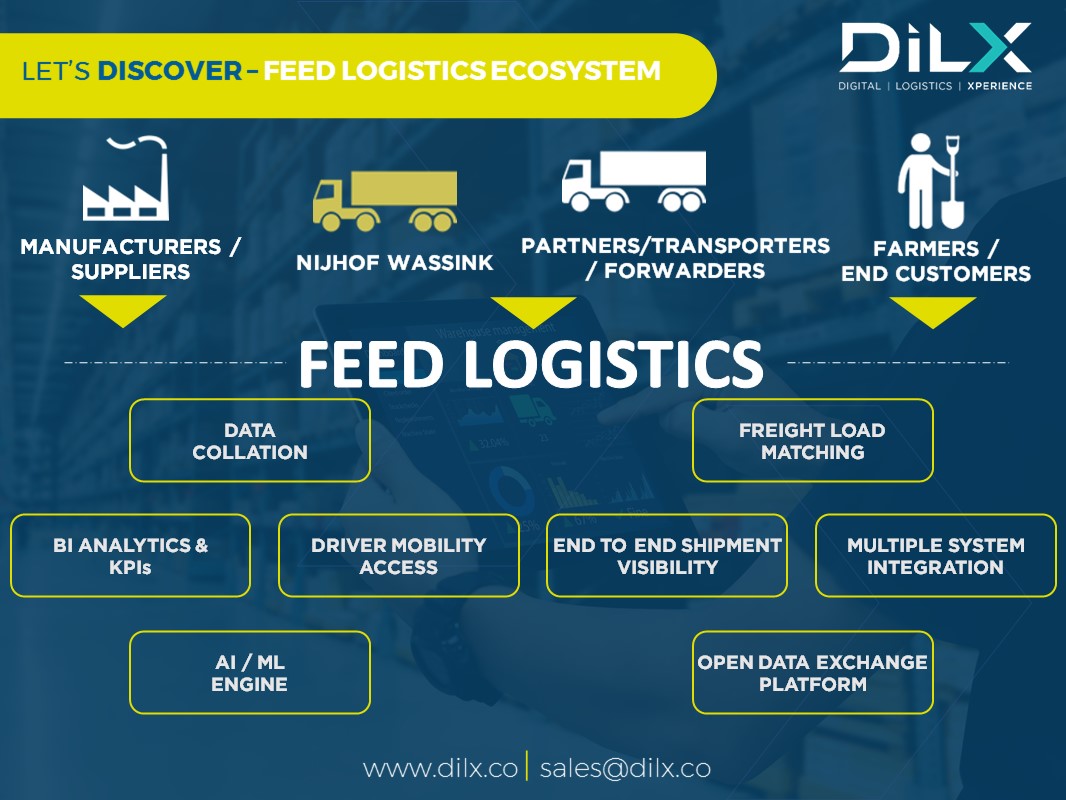 How Nijhof Wassink, a specialist in bulk transport by road, rail and water, has been enabling Holistic Multi-party Network and Marketplace through business-critical Integrations
The objective was to automate end-to-end feed logistics processes from manufacturing consignment to end-client delivery fulfilment and Transform feed business ecosystem landscape by Holistic Multi-party Network from order to delivery management.
They required a Multi-party Data Exchange Platform Automated Data Mapping, Simulation and Resource Allocation Performance Dashboards and Optimization Exceptions and Event Management.
We overcame the challenges of Internal/External Systems Connectivity and DataExchange, Manufacturer Real-Time Console, KPI Dashboard and Overview, Geo-fencing and Track and Trace, by our holistic solution.
Allard Nijhof says "At Nijhof Wassink, We believe in efficient and Innovative Logistics across the supply chain ecosystem. Business-critical integrations are crucial in today's networked economy to achieve a competitive edge in the market. DiLX Team helped us to achieve the competitive edge in the market with their Digital Logistics solutions"
Our Solution modalities slide over here to show our tailor solution for them.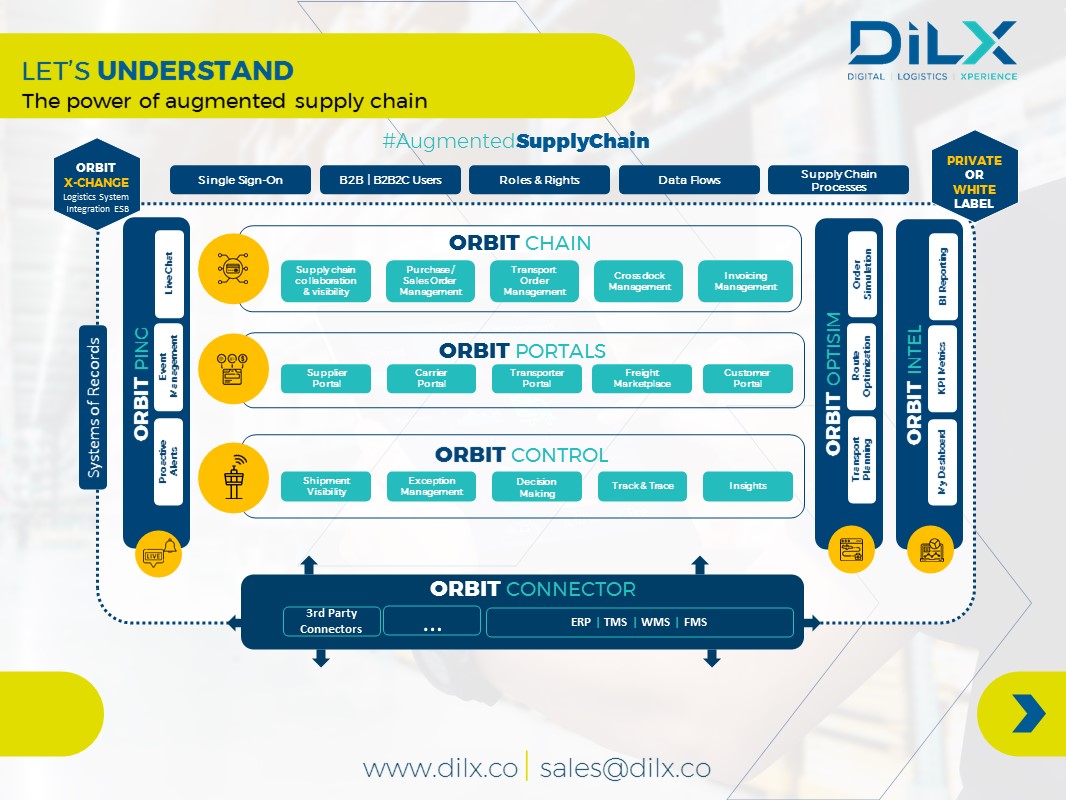 Take your existing logistics systems into the future with Augmented Supply Chain. Know more about us, visit /www.dilx.co