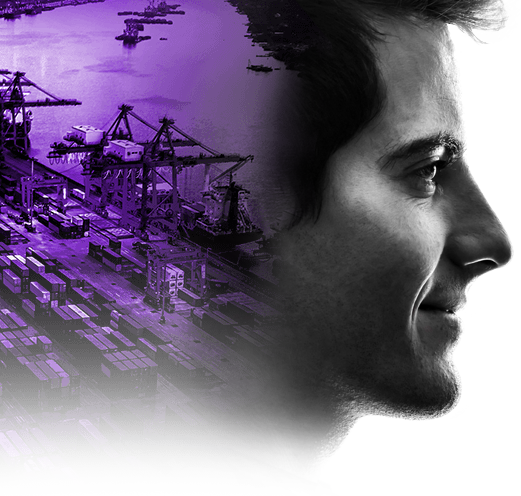 Power an intelligent supply chain
Reach the next level of supply chain transformation—from design to delivery
An intelligent supply chain for a connected world
Leverage artificial intelligence (AI), the Internet of Things (IoT) and blockchain to ensure an intelligent supply chain at the heart of the digital ecosystem.
Converge AI, IoT and blockchain to achieve digital transformation
Discover how the convergence of IoT, AI and blockchain, when integrated with more traditional supply chain management systems and business network practices, powers new levels of innovation and efficiency.
The benefits of an autonomous and intelligent supply chain.
The key capabilities of AI, IoT and blockchain that enable supply chain intelligence, collaboration and connectivity.
Out-of-the-box use cases illustrating ways to revolutionize everything from tracking, traceability and asset provenance and whole-life lifecycle management to end-to-end insurance, global payments, and logistics administration.
The importance of laying a digital supply chain foundation, prior to integrating AI, IoT and blockchain into business operations and processes.
Four keys to an intelligent supply chain
ConnectedEnable growth through an extended digital ecosystem that unites employees, trading partners, systems and things.
Collaborative
Promote rich and secure collaboration with the flexibility to work how, when and where people, systems and things work.
Intelligent Boost the competitive edge with machine learning-based advanced analytics to predict outcomes, optimize and automate business operations, and take informed action.
Secure Ensure only the right people, systems and things have access to the right data at the right time—and only as long as they need it.
No matter the stage in digital maturity, each key pillar helps enterprises get ahead. Together, they help them stay ahead and reach the next generation of digital transformation—from designing new solutions based on advanced analytics insights to optimizing the delivery of offerings. Advanced Analytics, Artificial Intelligence (AI) and the Internet of Things (IoT) provide the path to transformation.
The promise of advanced analytics, IoT and IAM</p>
75.4 billion
connected IoT devices by 2025—equivalent to 10 IoT devices for every person on earth.1
772%
of business leaders say AI is a "business advantage."2
p>1/3
of executives are considering adopting or are using blockchain technology.3
The valuable data generated from connected devices can help enterprises compete today and prepare to lead tomorrow. Leveraging IoT in the supply chain—along with intelligent capabilities and an optimized platform—allows enterprises to understand all their supply chain data. The result? Reduced costs, increased efficiencies and the ability to predict future market needs via a hyper-optimized and secure supply chain.
Learn how these disruptive technologies make supply chain operations smarter and power digital transformation today to stay ahead tomorrow. Read the white paper.
Realize the supply chain's true potential
Watch the supply chain visibility use case video
Watch the proactive replenishment use case video
1 OpenText, How IoT Enables an Intelligent & Connected Supply Chain, 2018.
2 Forbes, "14 Things Everyone Should Know About Blockchains," 2017.
3 CMO.com by Adobe, "15 Mind-Blowing Stats About Emerging Technology," 2017.