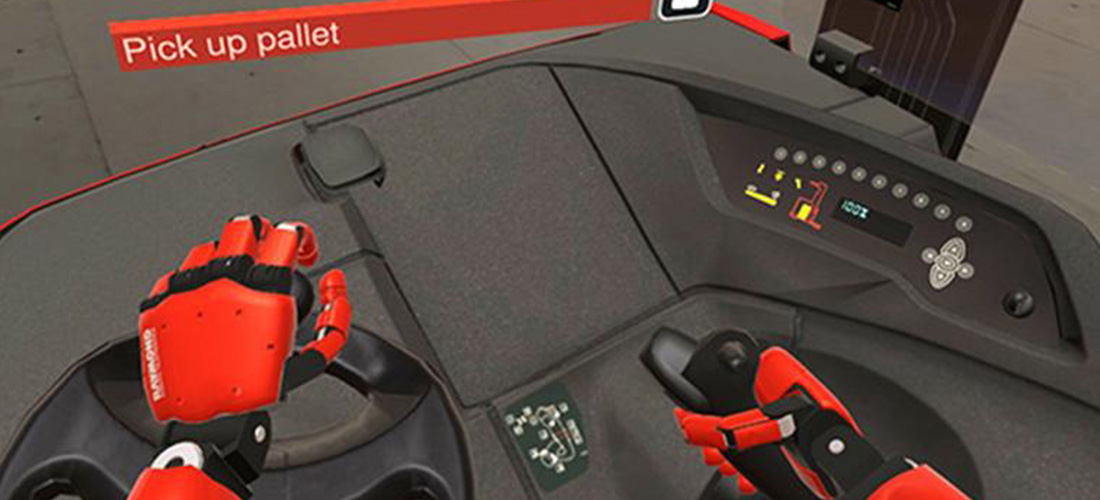 The manufacturing industry continues to be challenged with a shortage of skilled workers. A survey of manufacturing executives conducted by the Manufacturing Institute and Deloitte ranked access to a highly skilled, flexible workforce as the most important factor in their success—20 percentage points higher than other factors, such as new product innovation or increased market share.
While the need for skilled labor increases, so do consumer demands. These heightened demands, both for talent and quick turnaround times, are presenting the material handling industry with a big challenge.
Shrinking the Skills Gap
To address this concern, our industry is looking for innovative ways to attract new talent to fill these positions and reach higher operator proficiency levels efficiently. Virtual reality (VR) instructional tools are a key innovation redefining the material handling and logistics industries and helping to shrink the skills gap.
VR is being used as a supplemental educational tool for lift truck operators—allowing them to be coached and gain more confidence with truck controls, all before reaching the warehouse floor. By putting on a VR headset, operators can learn lift truck driving best practices and get a feel for being on the equipment within a simulated and secure environment.
Attracting Talent with Next-gen Technology
With advanced educational offerings, employers can attract younger talent into the workforce and start shrinking the skills gap. VR educational modules include a series of guided lessons that increase in complexity and build upon principles learned in earlier lessons, providing the user with a consistent experience and reinforcing desired behaviors throughout the modules.
Another benefit of these next-generation tools is the opportunity for instructors to immediately assess which associates would be successful operators—including those who are not dissuaded by heights—and in which applications.
In discussing this type of supplemental education with warehouse and hiring managers, they continue to tell me how VR modules provide them with a clearer view as to who would excel in the role as a lift truck operator. Traditionally, educators and hiring teams could not assess the skills and tendencies needed to excel as a forklift operator—skills such as hand-eye coordination. Through advanced technology, hiring managers can more easily determine whether forklift operation is the best position for a job candidate.
Practicing for Real-life Scenarios
A key advantage of VR education is the ability to experience real-life situations otherwise not available through traditional classroom settings. Being coached through these situations in a virtual environment can help the operator be better prepared, should a similar event occur while operating on the floor.
VR also provides a consistent educational experience for your workforce. Establishing a standard practice for handling emergency scenarios can be crucial, so when a real-life event happens, everyone knows the exact protocol to follow. This can help create a more secure working environment overall.
Using Virtual Reality in the Real World
Recently, employers in New York's Broome and Tioga counties were struggling to find skilled labor to fill warehouse and distribution center positions. Without skilled labor or the ability to attract new generations into the workforce, the economic prosperity of the companies and communities were at risk. Could lacking labor resources deter future businesses to move into their area?
Broome-Tioga Workforce New York (Workforce New York)—an organization focused on providing employment-related services for businesses, workers and job seekers in Broome County—saw this challenge as an opportunity. After hearing from employers which skills were in demand and working with local residents in search of employment, Workforce New York partnered with The State University of New York (SUNY) Broome Community College and Broome-Tioga Board of Cooperative Education Services (BOCES), to create an educational program to teach participants the necessary professional and warehouse skills to produce employable candidates to fill these crucial manufacturing positions.
Throughout this venture, Workforce New York received a grant for 12 participants to engage in a weeklong forklift operator education course—including in-classroom and e-learning, and coaching modules with a virtual reality simulator. If participants completed the whole program, they were guaranteed a job.
Workforce New York participants embraced the virtual reality module, providing the feedback that it offered them a more engaging and realistic experience before performing on the job site. Participants watched classmates progress through the modules and learning the skills together as a team. The participants expressed that this real-world application instilled confidence and preparedness that would help them succeed in their new roles. In fact, one participant remarked, "As soon as you start using the virtual reality tool, you feel like you're actually operating the equipment. When the time comes to operate in a physical warehouse environment, I feel I will have less of a learning curve and be more comfortable on the forklift."
Investing in Advanced Education to Propel Our Future
According to the study by the Manufacturing Institute and Deloitte, 67% of U.S. manufacturers are facing a moderate to severe shortage of qualified workers, and as many as 600,000 jobs remain vacant due to the shortage. To continue producing and selling quality products, we need to take critical steps to address this issue.
To propel our companies forward, we need to not only get skilled employees in the door, but we also need to keep them there. And one way we can do this is through investments in advanced education like virtual reality to attract talent, increase proficiency levels, build confidence and provide a consistent learning experience for our future.
Michael Field is CEO of The Raymond Corporation, a manufacturer of manual and electric forklifts designed to meet a variety of material handling needs and offer advanced end-to-end warehouse solutions that enable operations to run better and manage smarter. He has more than 25 years of experience managing engineering and operations groups at industrial companies. He also is a member of the Toyota Material Handling North America (TMHNA) executive team and a board officer with several TMHNA legal entities.
Author – Michael Field
Courtesy of https://www.industryweek.com/emerging-technologies/virtual-reality-new-reality