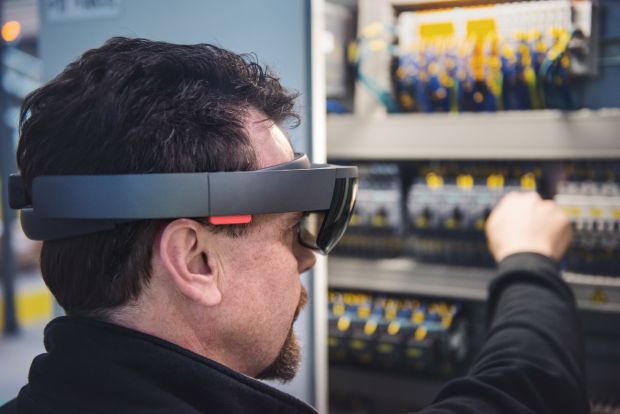 System availability makes or breaks the productivity of an automated warehouse. Downtime caused by unscheduled system shutdowns not only lowers efficiency, it can result in delivery delays and an explosive rise in costs, which, in turn, effect customer satisfaction.
Automation and robotics, connectivity and increased use of data are all driving changes in intralogistics and are paving the way for Industry 4.0. Software is at the heart of that evolution. To stay ahead of the competition, it is critical to find a WMS that offers the full-spectrum of systems and controls, yet is modular and has the ability to integrate with your current IT infrastructure and logistics software landscape. Software with basic warehouse management functionality, warehouse execution, warehouse controls, manufacturing execution systems, material flow, and automation control systems provides a full-spectrum of software ability within the fours walls of the warehouse. Furthermore, a proven interface that has the ability to connect to any ERP and/or multi-site WMS system will allow for a seamless integration of automated warehouse processes.
A new approach to warehouse management software was needed that delivers all of the functionality, intelligence and services required to optimise warehouse operations in an integrated, modular platform. The software's ability to adapt to future technology would see users benefit from a future-proof operation, where additional functionality can be securely added, helping businesses capitalise on the opportunities emerging as Industry 4.0 evolves.
Stay ahead of the competition with a smart WMS system
Many supply chain professionals feel the elements of Industry 4.0 including WMS systems seem theoretical, but in fact software that combines synchronisation and business intelligence across warehouse management, material flow and automation control system functionality, is available today in a single platform.
A modular software platform provides the flexibility to deploy components that are relevant to individual business requirements and KPI, whilst intelligently synchronising automation equipment, robotics, people and processes for peak performance. An Industry 4.0 future-ready software platform enables a business to commence the journey to operate at ideal performance with the agility and insight to make informed and proactive decisions.
Collaboration at the heart of your technology
A crucial supporting platform to any WMS platform is a collaboration component that provides continuity no matter the level of automation your business has installed. When considering software, professionals must seek one that has proven functionality and outstanding quality assurance.
A collaboration platform is the heart of SynQ software that makes seamless integration possible. This platform includes real-time 3-D visualisation to manage and control automation through the Single Point of Control (SPOC) interface. SPOC provides a unique, easy-to-use, user interface for visualising and controlling all warehouse operations and machines. SPOC gives employees in the control centre an intuitive and accurate overview of all warehouse operations, indicate where the failure of individual components would impact the entire flow of goods, and are able to trigger proactive measures when needed. For example, if a bin in the high-bay warehouse shifts or a palletising robot runs too hot, the system issues an alert before an incident arises. Such software must also offer flexible IT, whereby software can be installed on existing infrastructure or anywhere in the cloud.
Software that adopts the advantages of virtual (VR) and augmented reality (AR) tools are available and provide important staff support. VR is used to provide a realistic visualisation of your future warehouse, that enables you to train your staff and technicians in their future environment before the warehouse is built or before they commence employment. Augmented reality devices like the HoloLens will allow users to pick without additional hardware whilst at the same time call on remote assistance from higher-skilled technicians or management.
Analytics and business intelligence
A real-time holistic view of a warehouse is a valuable tool for managers. With future-ready software, operational reports can be managed and scheduled to maintain a thorough understanding of warehouse performance for continuous improvement of operations across automation, inventory and operators. Smart software compares the measurements and error events generated by data-collection sensors and stores the data in the cloud against predefined target values, allowing deviations to be diagnosed quickly and with pinpoint accuracy. As a result, you can determine 24/7 whether your system operates flawlessly or whether there is imminent damage due to wear or excessive usage of automation, inaccuracies in inventory and processes that people are completing.
"Business intelligent tools encompass the future of warehouses as they provide the visibility and data required for optimal warehouse operations."
Software that combines analytics and embedded business intelligence, can improve operations and synchronise the performance of your automated or manual warehouse equipment. Business intelligent tools encompass the future of warehouses as they provide the visibility and data required for optimal warehouse operations.
Such tools include mobile notifications of system operations and the trigger of automated corrective actions to improve material flows. The SynQ cockpit provides a clear and concise overview of warehouse operations with plugins for inventory statistics, labour performance and condition monitoring to provide quick visibility into your operations through smart data aggregations and appropriate visualisation.
Do you have your warehouse under control?
Condition Monitoring is based on the idea of detecting and correcting system component changes caused by wear, excessive use and other potential causes as early as possible – ideally immediately after they arise. This gives users the ability to predict and prevent problems before they occur by viewing the current state of your intralogistics system at any time and ensuring that your equipment works at maximum efficiency for the longest lifespan. The warehouse remote monitoring services predict possible problems, reducing the risk of unscheduled downtime and maximising delivery reliability. This provides the advantage of real time analysis of error and throughput trends to provide faster fault identification and highest availability.
An integral functionality feature is the ability to continually record equipment condition by incorporating the measurement and analysis of physical values, such as distances covered, temperatures, energy consumption of individual elements and disciplines from state-of-the-art sensors into system reports. The collected information can then be used to identify vital elements that are prone to malfunctions and draw conclusions regarding the potential error rates of individual disciplines and entire logistics systems. Condition Monitoring allows control centre employees to view the current system condition at any time, document the development of trends and evaluate failure risks. The goal is to turn the data and data analyses into decisions designed to improve the planning of operations and maintenance processes to prevent system failures caused by malfunctions and maintenance factors, especially those that occur during peak periods and are therefore particularly disruptive.
Businesses can set a pre-defined data series (KPI) and pre-configured pages and charts to simplify the management of KPI. This uses the data collected by the hardware components using state-of-the-art sensors. Whether it is the energy consumption of a conveyor system, the deceleration path of a stacker crane, the number of movements of a shuttle or the temperature generated by the movements of a roller conveyor, continuous and seamless evaluations of the condition of all components and disciplines in a warehouse are achievable.
"Future-proof operations with software that provides convergence of connectivity, big data and advanced robotics to create cyber-physical production systems."
Through continuous monitoring and real-time data, warehouses can continuously operate at maximum efficiency to ultimately reduce operational costs. Furthermore, early-warning system for malfunctions reduce downtime of critical equipment and allow a business to create calculated risks. Predictive maintenance is the next step towards Industry 4.0.
Smart concept
Condition Monitoring replaces the preventive or reactive maintenance and service strategy of the past. Instead of conducting routine checks at regular intervals and performing scheduled replacement of intact parts with a specific remaining service life, maintenance and spare parts provisioning occur precisely when the data indicates they are necessary. This innovative approach to proactive maintenance and service offers enormous cost-savings potential because the service life of critical elements can be fully utilised.
The core tasks of the condition monitoring include recording, analysing and visualising information to provide ongoing warehouse monitoring, including all tasks, processes and warehouse components. State-of-the-art sensors, data collection methods, and optimisation algorithms based on big data analytics are the cornerstones of Industry 4.0 that supports systems throughout their entire lifecycle.
Business intelligence tools, such as Swisslog's cockpit manager, availability manager, event manager and, at the core, 3D real-time system visualisation interface (SPOC), record the data generated by the system. Information about the condition of the system can not only be displayed as classic charts, but also directly on the system visualisation screen as, for example, heat maps which highlight all critical elements. A number of other apps can be added to the chain of software modules. For example, the Report Manager can be used to generate a PDF report when a specific problem is detected. This report, in turn, is then e-mailed to the warehouse managers by the Event Manager. The result is effective reporting about all the errors that occur and the corrective measures that are initiated in response.
The power of software
In today's competitive world, more than ever before companies must be able to deliver with increasing frequency the right orders to the right customers at the right time. Intelligent software has the ability to manage peak demands and provide holistic automation to ensure optimisation is achieved at the appropriate level to enable material handling equipment and people to perform at their maximum level. Furthermore, a powerful software can transform insight into intelligence. This is achieved through tools that give businesses quick and accurate visibility of operations through standardised data aggregations and appropriate visualisation, all without the need for IT experts or custom programming. This transformation of data becomes actionable intelligence to help with analysis and optimisation of warehouse performance.
The future of the warehouse
Future-proof operations with software that provides convergence of connectivity, big data and advanced robotics to create cyber-physical production systems that will be the hallmark of Industry 4.0. With its modular architecture and intelligent, automation-centric design, SynQ helps users adapt to these changes and capitalise on the opportunities that are emerging as Industry 4.0 evolves.
Building on condition monitoring and predictive maintenance service will be the next building block of Industry 4.0. Predictive maintenance will be made possible by networking all automation sensors, integrating external data into the complete system and detecting correlations and behaviour patterns. Sending information not only about where a problem will occur but also about when and how it can be fixed proactively.
Author – Sean Ryan
Courtesy of https://www.tandlnews.com.au/2018/06/08/article/in-control-from-mhd-magazine/