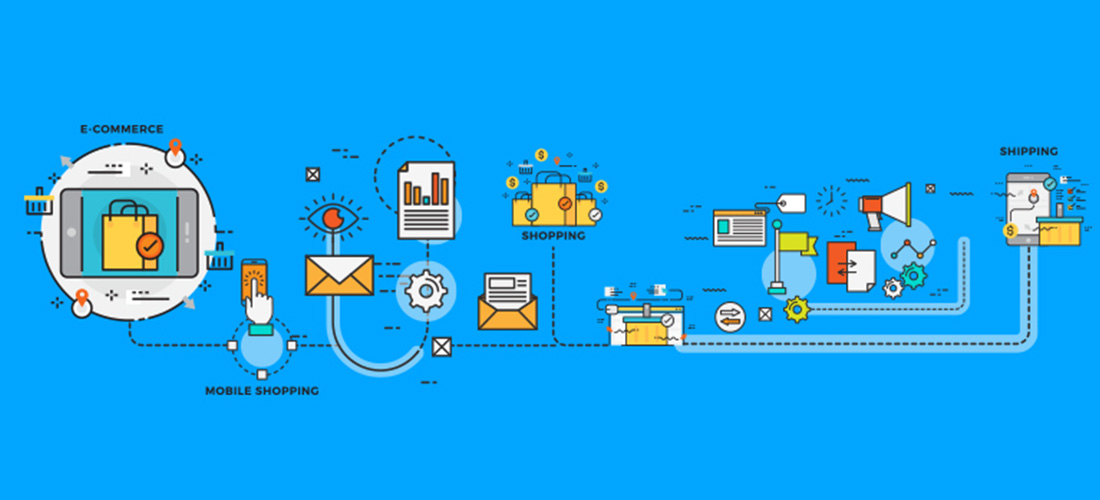 According to Statista, 46% of the total Asian internet users bought products or goods from the mobile, and the number is surely going to increase in the upcoming years. In the past few years, we have seen a lot of evolution in eCommerce practices, and we're still witnessing. Starting from increased use of mobile to the entrance of Augmented Reality, eCommerce has changed faces and will continue to do. So, Whether it is B2C or B2B, you can't ignore these 20 upcoming trends that will change the way eCommerce run in the year 2019.
Top 20 ECommerce Trends For The Year 2019
Better Customer Experience

Augmented Reality and Virtual Reality

Mobile App Dominance

Advanced Product Search

Machine Learning and AI

Personalisation

Interest-based Advertisements

Voice Search will change the face of SEO

Research Online Purchase Offline (ROPO)

Better Payment Methods (Cryptocurrency)

eCommerce with Better Visuals

Video in Hero Carousel

Amazon and Amazon SEO

Image Search

Fast Shipping and Better Logistics

Chatbots

Social Media

Physical Stores Aren't Dead Yet

B2B = B2C

Less Browser Use
Better Customer Experience (Virtual Assistant)
Purchasing things from an online store and physical stores are two different experiences. BUT, the way eCommerce is practicing, both of these experiences will be almost the same in the nearest future.
What happens in a real store is – a human assistant helps you find the right products for you, according to your taste and preference. What could happen in the upcoming years is, you enter into an eCommerce site, and a virtual assistant suggests and guide you by asking various questions.
Virtual assistants will make the purchase more realistic, and purchase decisions will be better.
Augmented Reality and Virtual Reality in eCommerce
Sephora, a French cosmetics stores chain founded in 1969, quite famous for great customer experience. Sephora uses augmented reality to try different makeup looks, and take pictures with the outfit you're planning to go with.
Lenskart – an Indian eCommerce platform for eyewear allows users to try out hundreds of frames in 3D. It captures the shapes of your face, and creates a virtual face, so you can try out different frames, and then go for buying.
Here, buyers will get the exact idea about the product. You no longer have to imagine how this sofa would look in my living room, you can actually see it!
AR has already made a great progress up till now, and it is definitely one of the game-changing eCommerce trends in 2019.
Mobile App Dominance
An efficient eCommerce website development is the first step for any online selling business, but the hustle doesn't stop here. Buyers are more focused on mobile and prefer to purchase from mobile itself. According to SearchEngineLand, nearly 60% of the total Google searches are from mobile devices. Search engines have already advised businesses to make their websites more mobile friendly, but mobile apps win the race here. Users browse 286% more products on mobile apps than mobile web.
Mobile application industry will cross $189 billion revenue by 2020, and all the eCommerce leaders are pushing the use of mobile applications. That is a clear sign of increasing revenue for all the eCommerce, and that's the reason why they are promoting the use of mobile app over the website.
Advanced Product Search
When you type down "Samsung" in the Amazon search bar, it suggests various products that consist of the keywords for "Samsung". Like, Samsung Headphones or Samsung Galaxy J7. These suggestions are based on popularity. It saves time, and also give you a slight idea of the highest selling products of a particular brand. Add-ons like these add values to a particular website, and if you're working in BigCommerce technology, you must try these BigCommerce Add-Ons that we have made.
So, one of the eCommerce design trends 2019 could be Advanced Product Search where we can see the more personalized suggestion. These suggestions will be more refined and interest-based. This will definitely shorten the buying cycle time.
Machine Learning and AI
Machine learning and AI are already making a huge impact on major business areas. Machine learning is the application that delivers a better user experience based on your previous data and buying behaviors. It completely makes sense in eCommerce because everyone has different choices and preferences.
Just like in a physical shop where you're a regular customer, shopkeeper knows what kind of clothes you like, eCommerce will make you feel the same in upcoming years. Machine learning and AI are two of the most awaited eCommerce trends in 2019.
Personalisation
45% of customers would prefer to buy from an eCommerce platform that can deliver personalized recommendation. And 56% of the online shoppers would return to the eCommerce store that gives personalized recommendations.
Amazon has understood it very well, and you can actually see tons of recommendations based on your history. Starting from "Your Wishlist" to "Your Collection", Amazon gives the feel of complete personalization. But personalization doesn't stop right there. According to your buying behavior, eCommerce platforms send various emails with exciting offers.
With the integration of Machine learning and AI, we would hope to see more personalized stores in 2019.
Interest-based Advertisements
Personalised advertisements also known as Interest-driven advertisements will be more precise in 2019. Google has been trying to provide the best advertisements that fit well according to user preferences, and personalized advertisements are one of the 2019 eCommerce trends to look forward to.
eCommerce Digital Marketing Services are evolving, and it will provide the ads that you want to see. Machine learning fused with your browsing history will give you the best ads that will improve chances of sales and conversion.
Voice Search will change the face of SEO
According to Comscore, more than 50% of the total searches will be voice searches by 2020. Now, it's a known fact that business websites will change according to search engine updates. And Google will make sure the users get the best results on voice search. This is going to be a game changer in Search Engine Optimization and will design eCommerce websites according to voice searches.
Dominos, Lyft, and Walmart have already taken this seriously, and provide voice-based services to their customers. It would definitely be an eCommerce trend to look forward to in 2019.
Research Online and Purchase Offline (ROPO)
82% of mobile users search for local stores to buy any product, and 18% of that gets converted within just 24 hours.
Research Online and Purchase Offline is a new measure to evaluate the effectiveness of digital campaigns. With a crazy combination of mobile device, social media, CRM, payment gateways, and POS system, the effectiveness of online campaigns can be measured and 2019 will be a year to get ROPO more refined.
Better Payment Methods (Cryptocurrency)
Online payments used to be a fearful activity about 10 years ago, but now that fear is slowly dissipated. People are using various methods to pay online. USA and Canada are at the top to pay via credit/debit card, and PayPal.
But the use of Wallets are drastically increasing, and Apple Pay, Walmart Pay, Samsung Pay, and Android Pay are the leaders. Wallets make the transaction easy and quick with a touch of safety, so it is quite obvious to see this change.
With the Cryptocurrency introduced, eCommerce will be driven to a stage where buyers can purchase the product and pay via cryptocurrency.
eCommerce with Better Visuals
Visual is the best way to let any customer know that your product is promising. Online businesses are now preferring eCommerce themes with great visuals, and video content to let their customers know how promising their products are.
Bellroy – An online Accessory provider uses tremendous visuals to introduce each of their products, and shows how great their products are compared to others.
Video in Hero Carousel
A video is a great way to let people know what capabilities your products hold. We always give the example of Bellroy when it comes to product presentation through videos. But, putting videos in Hero Carousel helps to attract more customers.
When potential buyers land on a homepage, a high-quality video in hero carousel can make visitors pause for a second and check out the product. It can surely increase the number of visits to the product page, hence the conversion rate.
Amazon and Amazon SEO
Amazon is the largest search engine in terms of product finding, and it will continue to rise in 2019 as well. Amazon is the third largest retailer after Walmart and CVS. It is the most trusted brand in Canada with 15 wins out of 23 eCommerce categories.
As we know, Amazon is the biggest search engine for products, and hence an individual Search Engine Optimization [SEO] for Amazon has developed. Amazon SEO is a process of uplifting a particular product on desired keywords, just like a normal SEO process. Over the time, Amazon has developed, and it has created an individual digital marketing world consisting SEO, PPC, Content Development and Marketing, A+ Content, Storefront, and Enhanced Branded Content [EBH].
Amazon will add more users and create a new milestone in 2019. With an individual market growing for Amazon SEO, marketers had to take it seriously. In 2019, Amazon and its SEO is one of the curious eCommerce trends to look for.
Fast Shipping and Better Logistics
Same day delivery is highly expected these days, and it will be a huge change in the year 2019. We will see more eCommerce platforms delivering the same day and providing various delivery options. The platforms will provide flexibility in delivering the product, and the logistics will be smooth in upcoming years.
Chatbots in eCommerce
The chatbot is a machine learning technology that comes up with suggestions and has the conversation with the customers. It creates an interactive environment for the customers where chatbot asks questions to the customers and deliver the best possible results.
It is an interesting way to deliver interest driven results to the customers, and eCommerce has the most benefit from it. Artificial intelligence will be $36.8 billion industry by 2025, and eCommerce will share a huge part of the revenue.
eBay, SnapTravel, Aerie are the few examples that are using chatbots for customer conversion.
Social Media
Social media is already a huge hit for eCommerce. Facebook, Twitter, and Instagram are the leaders in driving potential customers to the website and they are one of the finest tools for customer engagement.
Facebook, Twitter, Instagram, Pinterest, and Snapchat are the leading social media tools for eCommerce right now, and in 2019 we would see more personalized ads that will drive relevant traffic increasing conversion rate.
Physical Stores Aren't Dead Yet
Yes. Physical stores still have a lot to offer. Many online platforms have opened up physical stores for various reasons like product exchange, product trials, premium experiences, etc.
IRL (In Real Life) is one such example where the shop allows its online brands to showcase their products on the display.
Amazon Go is a revolutionary grocery store that allows users to choose the products, and leave! The payments will be automatically deducted from the account.
Kanuk's physical store has a real life environment with -25°C to try out their winter wears.
B2B = B2C
56% of B2B buyers are expected to purchase more than half of their total purchases from online platforms. More than 70% of the B2B buyers start with a generic search. In 2019, we will see a lot in favor of B2B buyers, and the way it's flowing, it would be as same as B2C.
Less Browser Use
In the upcoming years, we will see a drastic downfall in the use of browsers. Mobile apps are already covering the market, and all the major eCommerce giants are promoting the use of apps.
On the other hand, advertisements are becoming more focused and interest-driven with connections of social media apps, that search engines will not remain the major source of traffic to eCommerce platforms.
It would be really interesting to see the future of browsers in upcoming years and the effect on eCommerce in 2019.
Bottomline
These are the eCommerce trends that will hit in 2019, according to PSDCenter. Do let us know your thoughts in the comment section below, and we would be happy to discuss your ideas. And if you think, we are missing out on a major eCommerce trend for 2019, do let us know.
Cheers!
P.S. Check out the best collection of premium BigCommerce themes from PSDCenter
Author – Kashyap Trivedi
Courtesy of https://www.psdcenter.com/top-20-ecommerce-trends-for-2019-to-boost-your-sales/