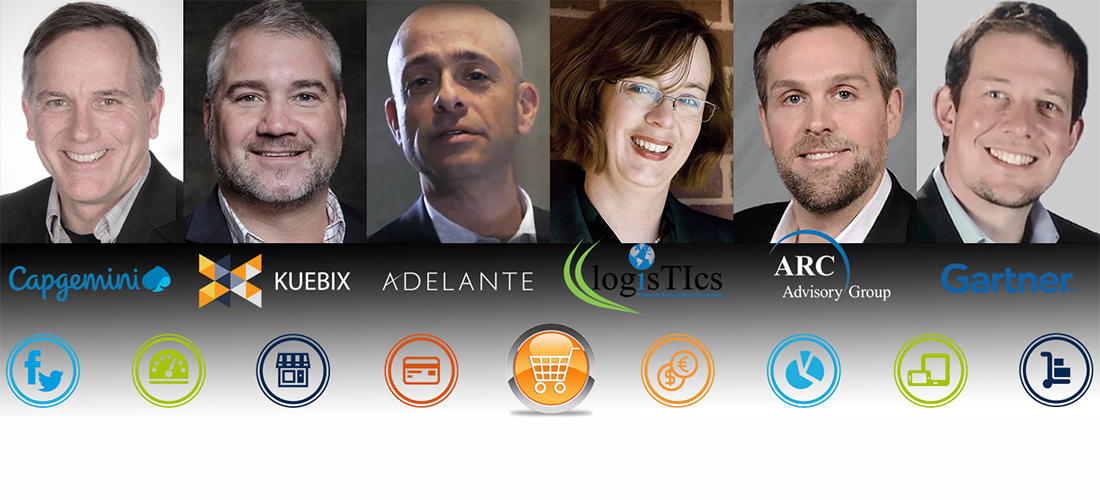 We know ecommerce is reshaping the logistics landscape, but what are the technologies managers can leverage to meet evolving requirements and shifting operational constraints? We've rounded up insights from leading experts to share tools that are available now as well as what's on the horizon.
The rapid growth of ecommerce is driving deep changes in logistics, from tightening up trucking capacity to elevating the importance of final-mile delivery processes.
To respond, logistics managers now need to think in terms of systems that they can leverage today to make processes more efficient, while also keeping an eye on longer-term developments that will reshape tomorrow's possibilities.
To gain a sharper picture of what ecommerce-related technologies logistics professionals should be watching, we reached out to industry experts to develop a short-list of trends and solutions that need to be top of mind for today's logistics professional.
Several of thee include solutions currently in use, such as predictive analytics, supply chain control towers, and the continued digitization of freight forwarding; however, many, including blockchain-based traceability, driverless trucks, and even the advent of hyperloops, are all working through development, but promise to present bright new options in the future.
Predictive Analytics
Companies have long had dashboards to organize their metrics, but until recently, most of these approaches have been descriptive, meaning they look at past or current trends.
The new take, says Joe Vernon, senior manager of North America supply chain analytics for consulting firm Capgemini, is predictive analytics that makes use of machine learning and other related technology, including artificial intelligence (AI).
"Machine learning can help companies make sense of all the data that can be harvested and provide recommendations on how to respond to likely disruptions or opportunities," says Vernon.
"The goal is to take all this data and be instructive with it, which is where machine learning comes in. Machine learning can look for patterns and clusters of activity to sort out what it all will mean on either the demand side or on the supply side."
To date, says Vernon, most companies using predictive analytics apply it to demand-oriented questions. Machine learning can look at social media trends, activity from ecommerce websites, or other sources like the point of sale (POS) or weather data, to see how pricing or promotions might be adjusted.
"Many companies will start with predictive analytics on the demand side, but companies can benefit from the more sensitive radar that predictive analytics gives you on the fulfillment issues like transportation constraints or routes so you can avoid problems like not being able to completely fill orders," says Vernon.
Routing optimization and analysis of shipping capacity are shaping up as good niches for predictive analytics, says Vernon. Typically, he adds, companies will use these advanced analytics techniques to refine plans and processes under the control of a transportation management system (TMS), rather than replace their TMS. "It's not rip and replace – it's augment and enhance," says Vernon.
Combating Trucking Constraints
With ecommerce booming and a strong economy, trucking capacity is tight and expected to stay tight. To deal with this challenge, companies need to find all possible transport opportunities, such as tapping into otherwise empty backhauls, notes Dan Clark, founder of TMS provider Kuebix
"The name of the game is capacity," says Clark. "You need systems that allow you to be exposed to as many capacity opportunities as possible."
According to Clark, a TMS should be adept at connecting to multiple freight matching marketplaces and online logistics communities so that the shipper organization can match orders with capacity from more brokers, small independent trucking firms, and fleet operators.
"You need to be able to quickly access all of those potential opportunities and match your loads with that capacity."
Of course, TMS still needs good analytics and planning logic, especially when it comes to what Clark calls "deconstructing" truckloads into less-than-truckload (LTL) shipments to see if breaking orders into LTL moves makes sense for both service level and costs.
New Mode Envisioned
Hyperloop – a proposed form of high-speed transport – may seem hyper-futuristic, but with high profile proponents for it such as Elon Musk, founder of Tesla Motors, and more lately Richard Branson, founder of Virgin Group, it stands a chance of becoming a reality.
Hyperloops could one day send pods filled with cargo zipping through a tube at 700 miles per hour, using magnetics to reduce friction. If such hyperloops ever become reality, supply chains would have new transport options, potentially shaking up routes, networks, and disrupting modes like rail, notes Adrian Gonzalez, president of supply chain advisory firm Adelante SCM.
"There are many hurdles to hyperloop becoming a reality, but with some high-profile people behind it, it's attracting more funding to develop it further," says Gonzalez.
"If it ever starts to prove itself in the market, it provides another mode of transport. It's worth keeping an eye on as something with long-term potential."
Multi-Carrier Parcel Management Apps
While TMS plays an important role in executing much of the movement of materials in supply chains, when it comes to the last leg of fulfillment, parcel shipping software is becoming even more important. According to Bart De Muynck, research director for transportation technology at Gartner, this fact has given rise to a solution type that his firm refers to as "multi-carrier parcel management."
"There are some specialized vendors in the market whose main capability is around parcel shipping," says De Muynck.
"These systems perform functions like consolidating and optimizing parcel transportation to a level that most TMS weren't able to do before."
Multi-carrier parcel shipping not only considers the rates under the major parcel carriers but many smaller ones as well. "These solution providers live and breathe in the parcel world," says De Muynck. "These systems might have over 100 carriers and contain all of the parcel carrier rates."
While multi-carrier parcel management can be used as a standalone, in some cases these vendors are partnering with TMS and warehouse management system (WMS) providers who don't specialize in parcel shipping, but want to offer the functionality, adds De Muynck.
Dynamic Routing
For organizations with private fleets for last-mile delivery, routing solutions that consider the current location of vehicles and other real-time data are gaining importance, says De Muynck. As opposed to setting a fleet schedule that's static, advances in real-time tracking and routing optimization now allow for a dynamic approach, he explains.
"Today, with orders constantly coming in for same-day or next-day delivery, we need to have the ability to do much more dynamic routing," says De Muynck.
"To achieve this, you need a couple of things. One is visibility into where your vehicles are, and, second, you need a smart and adaptive type of optimization."
The location tracking for dynamic routing may use feeds from onboard telematics or other mobile asset tracking technologies, says De Muynck, but dynamic routing also needs an optimization engine that can very quickly devise new routes while juggling the impact of real-time trends in traffic and weather. In some deployments, the software may be used to give accurately costed delivery options.
"With real-time, dynamic routing you can provide accurate cost options back to customers," says De Muynck. "So, if they want it the same day, it would be this much of a charge, but next day, it might be $5 less or even free delivery. And, these options are based on real plans and accurate costs, which provides flexibility for the customer and can keep a company from losing money on last-mile delivery."
Driverless Trucks
The truck driver shortage accelerated in 2017 and is set to grow more severe over the coming years. A recent study from the American Trucking Associations (ATA) predicted that the shortage would reach 50,000 drivers by the end of 2017, and, if trends hold, could reach 174,000 drivers by 2026. This shortage trend alone should accelerate interest in driverless trucks.
The automated vehicle (AV) technologies that support driverless trucks are progressing rapidly, notes Gonzalez, with at least a couple of pilot tests last year on real roads.
However, for use of autonomous trucks to gain traction on a broader scale, regulatory permissions and liability concerns would need to be settled, says Gonzalez.
"The technology continues to move forward with driverless vehicles, but in general, the technology is moving at a faster rate than the associated issues."
Estimates vary on the uptake for driverless trucks. A report last year from the International Transport Forum (ITF) states that driverless trucks could be a regular presence on many roads within the next 10 years, though analysis of AVs by Goldman Sachs predicts that trucker job losses due to driverless vehicles will take 25 years to peak.
Additionally, AVs could start seeing use sooner in more limited scenarios, like long-haul routes where a human would drive the truck in cities, but where the truck switches to autopilot for the long-haul portions.
Another variant is truck "platooning" where a group of trucks drives in tight formation with a human driver in the lead truck, followed by driverless trucks that follow with minimal spacing to improve fuel efficiency. The concept has already been piloted in Michigan, and maybe an early mover application, says Gonzalez. "You still have a human driver in the lead cab, and that tends to make the public more comfortable with the technology," he says.
De Muynck agrees that while AV tech is advancing, there are many regulatory issues that need to be worked out. "Because of the need for legislation, we're seeing that it might well be three years out before we have those type of regulations in place and you can begin to see any real rollout of the vehicles," he says.
Some companies involved in last-mile are exploring a combination of autonomous light trucks, combined with flying drones that would use the trucks as a base and handle the parcel drops to a customer's door, adds De Muynck.
"From a technology perspective, if we're not already there in terms of making this combination possible, we're very close to it," he says. "The bigger hurdle is regulatory."
Control Towers Get Smart
The supply chain "control tower" concept has been around for at least a decade as a Web-based dashboard where operations managers and senior executives can see supply chain metrics, alerts, and drill down into operational details using reporting tools.
This visibility-focused aspect of control towers remains, but now predictive analytics is being blended into the concept to add smarts about what to do next to avoid disruptions, explains CapGemini's Vernon.
"A control tower is your base for visibility, but to be able to act on those numbers, you want some predictive capabilities," says Vernon.
"In the past, if a trailer is running late, you would see a light go red within a control tower. That's descriptive reporting. Under predictive analytics, the control tower not only would tell you the trailer is late, it could tell you the shipment would be late by five hours, and if you reroute it, here's what the result would be."
The next step in the progression of control towers is to make their analytics "prescriptive," says Vernon, meaning the analytics would narrow down the best alternatives. Predictive analytics tied into control towers can also examine a broader set of data than control towers of the past, such as scouring social media activity to gain early insight into whether product demand will spike in a region, explains Vernon. "Social media can also be viewed as a new input to supply chain analytics," says Vernon.
Digitized Freight Forwarding
Freight forwarders – companies that facilitate global trade – are becoming more digitized in the services they provide, says Cathy Morrow Roberson, founder and head analyst of Logistics Trends & Insights.
In its 2017 survey of the freight forwarding market, Logistics Trends & Insights found that 92% of respondents see value in digitization of services. Digitization in freight forwarding, adds Morrow Roberson, means automating systems and services so that clients can get instant insights on rates, rapid, accurate quotes, and visibility into shipments.
"Digitization is about automating access to information and improving efficiencies, it also allows for transparency, because you're able to see the entire process from quoting all the way to the final destination point."
In part, digitization in the freight forwarding sector is being pushed by freight marketplaces that allow shippers to get quotes and arrange freight services. To avoid losing relevance to these marketplaces, traditional freight forwarders have added Cloud-based access to rates, quoting and shipment visibility.
"Traditional freight forwarders are following suit with what marketplaces offer, as they're automating their systems and offering similar services," says Morrow Roberson.
Distributed Order Management (DOM) Evolves
Logistics requirements flow from orders, so when it comes to order fulfillment for omnichannel companies, distributed order management (DOM) systems continue to be essential.
"The DOM market is continuing to grow as e-commerce continues to grow," says Chris Cunnane, a senior analyst with ARC Advisory Group.
"DOM allows an organization to capture all information in the order management process across all relevant channels. This includes the entry of the order, sourcing, payments, and fulfillment."
In the meantime, DOM solutions are evolving in their ability to handle complex orders, says Cunnane. "There are more options for customers regarding their orders and delivery options," he says. "This requires more flexibility when it comes to optimizing the entire supply network. As ecommerce grows, pulling inventory from the proper location becomes more important."
Blockchain Meets Supply Chain
Blockchain, the technology for crypto-currencies, may soon start to have supply chain benefits in areas like tracking fresh foods. Blockchain uses distributed ledger technology, which can store transactions among many trading partners in a secure, immutable way that's easy to view for authorized partners – giving it the potential for chain of custody over the movement of goods.
According to a survey last fall of third-party logistics providers (3PLs) from Penske Logistics, Infosys Consulting and talent advisory firm Korn Ferry, 30% of 3PLs and 16% of shippers see blockchain as having potential supply chain application. Shanton Wilcox, a partner with Infosys Consulting, says traceability of goods such as fresh foods, high-value items, or items subject to the risk of counterfeiting, are likely applications.
Late last year, IBM, Walmart, and Chinese retailer JD.com launched a Blockchain Food Safety Alliance collaboration to improve food tracking and safety in China. Additionally, IBM and Maersk are working on a joint venture to apply blockchain to global trade, while the Blockchain in Trucking Alliance (BiTA) is working on blockchain standards for the freight industry.
Last-Mile Shake-Ups
The growth of ecommerce is driving a greater need for efficiency in last-mile delivery, notes Kuebix's Clark. For last-mile carriers, Clark says that they'll want to be able to closely track where their driver and truck assets are and match that knowledge to shipment opportunities coming from brokers and online logistics communities.
"Though such 'digital matching' of assets to deliveries, carriers can find backhauls and make operations more cost-efficient."
Over the longer term, the last-mile challenge in urban areas will also be addressed by the build-up of new types of warehouses or means of last-mile distribution, Clark believes. This might involve older shopping malls being converted to warehouse space or new approaches such as AVs that act as mobile warehouses.
"I think absolutely that we'll see some new approaches in dense metro areas because there needs to be enough space close to population centers to hold the inventory needed for same-day deliveries," says Clark.
Author – Roberto Michel
Courtesy of http://www.supplychain247.com/article/industry_experts_discuss_ecommerce_logistics/Kuebix